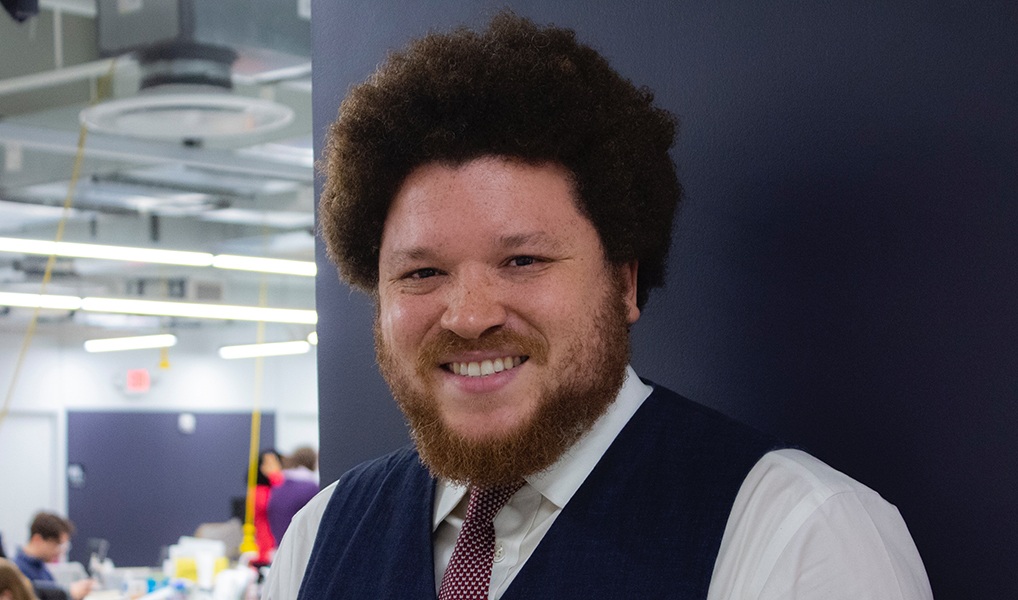 Fagan Harris is an entrepreneur who is working to write a new story for the city of Baltimore. Photo courtesy of Baltimore Corps.
LITTLE ROCK, AR — Fagan Harris founded Baltimore Corps with one goal: to find ways for talented people to go to work solving the world's most important challenges. A nonprofit founded in 2013, Baltimore Corps aims to recruit talented young people to accelerate social innovation and advance a citywide agenda for equity and racial justice.
"The story of my life is really about connection — how to connect the brilliant genius that happens in our neighborhoods and our communities to the opportunities, to the structures, so that [individuals] can thrive and contribute," says Harris.
Fagan Harris joined Gene Sperling, former director of the National Economic Council, to discuss how economic lessons learned during the Clinton administration can help drive inclusive growth. Photo taken in 2019.
Through programs like the Baltimore Corps Fellowship, Harris and his team recruit talented professionals and help place them in full-time social impact work in the nonprofit, public, and private sectors. Another program, Elevation Awards, provides $10,000 grants to social entrepreneurs of color in Baltimore.
"When you're looking in neighborhoods like West Baltimore, there's a lot of devastation," explains Harris. "But there's also extraordinary people — and they're building apps, they're doing hair in their living rooms, they're running restaurants out of their kitchen. When we did our first RFP [Request for Proposal], we had almost 500 applications from three zip codes in West Baltimore, and a lot of these folks weren't aspiring entrepreneurs — they're already doing it."
Last fall, Harris spoke about his work supporting these entrepreneurs during a conference on domestic economic policy in Little Rock, Arkansas, hosted by President Bill Clinton and Secretary Hillary Clinton. The conference brought together leading mayors, Community Development Finance Institutions (CDFIs), community organizations, banks, impact investors, and former Clinton administration officials to explore solutions that address support for entrepreneurs and small businesses, the income gap and racial wealth disparities and better support underserved communities.

The event was held in conjunction with the 25th anniversary of the creation of the Community Development Financial Institutions (CDFI) Fund, an important economic milestone from the Clinton administration, which helped expand support for more than 400 financial institutions that provided credit and financial services to underserved markets and populations.
At the conference, business and civic organizations announced new commitments designed to unlock economic opportunity in distressed and underserved areas, and promote entrepreneurship and small business growth. These efforts include commitments to help small business owners, provide financial expertise, and serve low-income communities.
In 1992, President @BillClinton ran on a platform focused on economic growth and shared prosperity. His administration proved that progress on income inequality is possible. https://t.co/qeSXei6RSn #CommunityFinance2019 pic.twitter.com/K3fFwYnzAZ

— Clinton Center (@ClintonCenter) November 20, 2019
"If you look at communities like Baltimore, the entrepreneurial hustle and behavior and spirit has never been more ascendant," Harris told leaders gathered for the event. "A lot of people now see themselves as entrepreneurs, but they're unbanked or underbanked — and they don't get any of the technical assistance or support that they need."
"This is the work that we're doing [at Baltimore Corps]," Harris continues. We're trying to find entrepreneurs of color who are left out by virtue of their zip code and, yes, the color of their skin. We're missing out on how to rebuild these neighborhoods and these communities. Main Street will rebuild itself if we invest in it."
Stay Updated On Our Work
Email