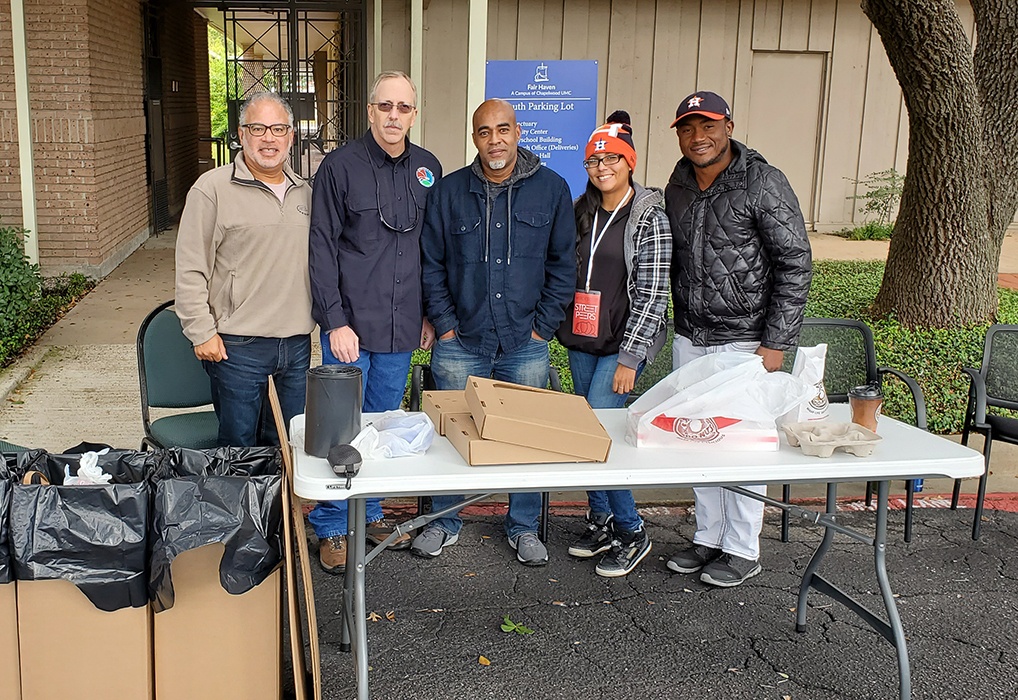 Christian Thrasher (left), Senior Director of Substance Use Disorders and Recovery at the Clinton Foundation, participates in a Drug Take Back Day in Houston, collecting expired or unused medication. Photo taken in 2019.
This story first appeared on Thrive Global: https://thriveglobal.com/stories/recovery-month-cause-for-hope-help-story/
ATLANTA, GA — As the Senior Director of Substance Use Disorders and Recovery at the Clinton Foundation, I have seen the challenges and the progress firsthand. We've brought together faith leaders from across traditions in communities across the country to help reduce stigma and build support networks. We've worked to get people trained to administer the opioid overdose reversal drug naloxone and to have it readily available, accessible and affordable where people need it most.
This issue is personal to me. I know what it's like to live without hope and struggle with a substance use disorder, this past December I celebrated 30 years of long-term recovery. I am here to say that there is hope.
Thirty years ago, I was a 9th grade dropout, homeless and hopelessly addicted to drugs. I didn't think my life could change. My world came crashing down when I was arrested and charged with four felonies and three misdemeanors, and I was on the fast track to spending the rest of my life behind bars.
Help create a community of hope. The Clinton Foundation fights the opioid epidemic by increasing education and awareness to decrease stigma and curb addiction while providing communities with the tools they need to combat the epidemic and save lives. Learn more, then act. [Video created in 2019]
My family, with the support of my community, gave me the opportunity to change my life. I was given the chance to have my case postponed for 90 days so I could go to a drug rehab in Montana. This was my last chance to try and regain control of my life. I made the decision to go and have never looked back.
While in rehab, I learned that addiction was a physical, mental and spiritual disease and as such, needed to be treated comprehensively. When I began this journey, I was asked early on what my wildest dream was – for me that was easy, I wanted to finish high school. There was a part of me that regretted dropping out of high school and at that point, the thought of having the opportunity to finish was beyond my wildest dreams.
My grandma used to tell me that God will move mountains for me, but I must bring the shovel. I enrolled in GED classes and started to do the work and quickly realized that I enjoyed learning. Six months later, I took the exam and I passed! I was now a high school graduate, which led to me enrolling in a junior college – then on to a four-year school, and eventually earning a master's degree and studying for my doctorate.
In the event of a suspected opioid overdose, 911 should be called immediately to get emergency help. While waiting for help to arrive, knowing how to use NARCAN – an opioid reversal drug, can save someone's life. In this video, the Clinton Foundation's Megan Affrunti, Director of Substance Use Disorders & Recovery, shares an important instructional on how you can act quickly to administer NARCAN. Remember, calling 911 is always the first course of action and administering NARCAN is not a substitute for getting the person emergency medical help. [Video created in 2019]
When I graduated with my master's degree, my father asked me to promise that no matter where I went in life, that I would always remember to remain teachable. Being teachable for me is about having hope – something that I try and prioritize each and every day in my recovery.
To define what hope means to me, I made it an acronym. The H is for my health; physical, mental, and spiritual. The O is for the opportunity to achieve anything I want to if I stay in recovery. The P is for having a higher power in my life to help shape and guide my efforts and to be the best person I can be each day. And the E is for education which means having the ability to educate others while always remembering to remain teachable.
Hope is what has given me the strength I needed to recover and allowed me to share my experience with others. I am grateful for the opportunity to raise awareness about addiction as a chronic disease rather than a moral failing. We all must constantly work at breaking down the stigma that keeps so many from getting the help they so desperately need.
"Too often, the stigma of addiction or substance use disorders keeps people from seeking help and I wanted to be a part of an interfaith dialogue to talk about how places of faith can be a part of the response. Not just reacting to the opioid epidemic, but actively engaging to be catalysts for awareness and change."
"Through our partnership with the Clinton Health Matters Initiative, the Aetna Foundation can have a long-term impact on girls and young women currently involved in the juvenile justice system. We know these girls are more likely to struggle with serious health conditions for years to come, and the earlier we act, the better their outcomes can be. CHMI's gender-responsive, trauma-informed approach to this work means that the girls themselves have a central role in setting the direction of program activities. That's the unique feature of the work, and it is strongly aligned with the Aetna Foundation's commitment to resident — and youth-led systems change."
Stay Updated On Our Work
Email