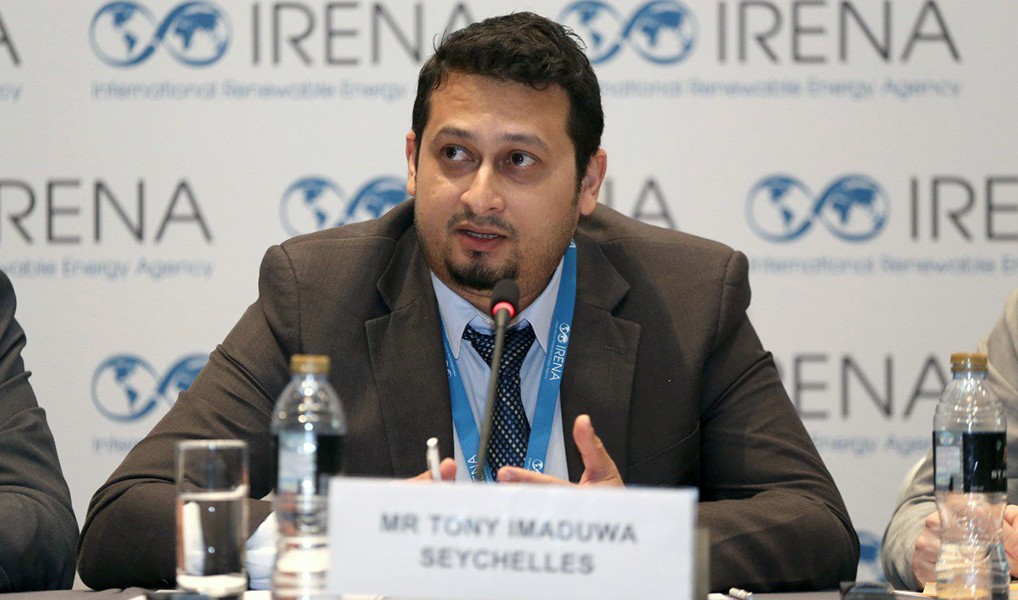 Tony Imaduwa, chief executive officer of the Seychelles Energy Commission, is part of a team working to bring a new floating solar power plant to the Seychelles. Photo courtesy of The International Renewable Energy Agency (IRENA).
PROVIDENCE ISLAND, SEYCHELLES — As part of the ongoing transition to renewable energy in the Seychelles, the local government and Public Utilities Corporation are implementing a marine floating solar power plant in Providence Lagoon on Mahé Island.
The Clinton Foundation operates under the belief that what works best in addressing the most pressing challenges of the 21st century is a partnership model that brings together the public and private sectors, as well as members of local communities to develop effective, affordable, and scalable solutions. Amid the growing threats posed by climate change, the Seychelles floating solar power plant aspires to be a model for what works in terms of addressing climate change and building economies that are resilient and sustainable in the face of natural disasters.

That's why in 2019, our climate team partnered with the Seychelles Energy Commission and the Seychelles Ministry of Environment, Energy and Climate Change to advance the project, which will be the first utility-scale, private sector-funded floating solar photovoltaic (FPV) project in Africa in a marine environment, and will have an estimated capacity of 4 MW.
We spoke with Tony Imaduwa, who serves as the chief executive officer of the Seychelles Energy Commission. He describes the power plant as a "landmark" project that exemplifies the country's commitment to moving towards a low-carbon energy sector.
Q: What differentiates this floating solar project from other solar projects, and why is it important?
Imaduwa: It will be Seychelles' first Independent Power Producer (IPP) project and the first to be implemented over water. It should be noted that the project is on course to be the first floating solar PV Plant in a marine environment in Africa. Seychelles has a huge solar potential and over the years, we have focused on rooftop grid-connected PV systems. Distributed generation alone will not allow us to achieve our energy policy target. We need to install a larger, utility-scale system. As one of many renewable projects being implemented to meet our 2020 target of 5% RE-storage-genset hybrid systems [a hybrid system that doesn't run solely on renewable energy or fossil fuels, but rather combines these two sources of energy as well as energy storage] penetration in our electricity mix, the floating solar project also addresses our space or land constraint for utility-scale PV projects.
Q: Has the need for renewable energy become more urgent in recent years? Why?
Imaduwa: In our case, development of renewable energy became more of a priority when we had the oil crisis back in 2007-2008. Since then, Seychelles has taken numerous steps to develop its renewable energy sector. We are steadily and cautiously increasing the amount of renewable energy injected on our national grid. The outlying islands of the Seychelles are shifting to RE-storage-genset hybrid systems and on some of these islands, their entire electricity needs are being supplied from just the RE system and battery storage.
Q: How is this project going to transform life/energy in your country?
Imaduwa: It will help meet our energy target for 2020. Also, being the first IPP project and the first floating PV in marine environment in Africa, it will provide the framework for future power procurement projects and present huge research opportunities, respectively.
The Seychelles may soon be powered by floating solar panels courtesy of the Clinton Foundation https://t.co/8OwXjrN7Yd pic.twitter.com/pwD1CfNl9D

— Forbes (@Forbes) June 19, 2019
Q: What factors did you consider in selecting a site for the floating facility? Why is Providence Lagoon a good spot?
Imaduwa: Site selection was based on the available area for 4 MW, proximity to the grid and high voltage network, and protection from the open sea. Providence Lagoon provides all these, plus a high load demand center to facilitate integration.
Q: Why is it important for places that are the most vulnerable to the effects of climate change to become global leaders in the transition to sustainable/renewable energy?
Imaduwa: From an island perspective, we are the most vulnerable [to climate change], yet we are not the ones causing it. We are not emitters. Though we are doing our part to combat climate change, for us it is really about strengthening our energy security, becoming less dependent on imported fossil fuels, reducing our import costs and using that savings to support other sectors. We will continue to do our part and become a global leader in the transition to sustainable energy but if we really want to combat climate change, it is the bigger and most polluting countries that need to transform.
Q: Is the project still on track to be completed and functional later this year?
Imaduwa: It was on track at the start of the year but the COVID-19 outbreak has slowed down the progress of the project. We will be pushing for it once the situation improves.
Q: What lessons do you hope to share with other island states and larger countries globally?
Imaduwa: If any island state or larger country wish to develop floating PV project, we will be happy to share our experiences. Floating PV on marine environment is new and this project presents excellent research opportunities.
---
"The Clinton Foundation is the reason why the African Legal Support Facility is involved in the Seychelles floating solar PV project. CCI has not only created an opportunity for the ALSF to support a ground breaking and innovative project but it has also amplified our impact and its chances of success. They understand the value of bringing along complementing partners. We deeply value this great relationship and hope it will serve as a model for future cooperation."
"Island states, such as the Dutch ABC islands [Aruba, Bonaire and Curaçao], are on the front lines of climate change and are disproportionally affected. Thanks to the participants of the Dutch Postcode Lottery, we can support the Clinton Foundation with their important and impactful work to reach these vulnerable communities. By creating solutions toward a more sustainable and carbon neutral environment, the Foundation helps islands become resilient toward future disasters. With the COVID-19 crisis, it has become even more apparent that these communities are hit harder than others. Thanks to the impactful work of the Clinton Foundation, these islands will become an inspiration to the rest of the world!"
Stay Updated On Our Work
Email