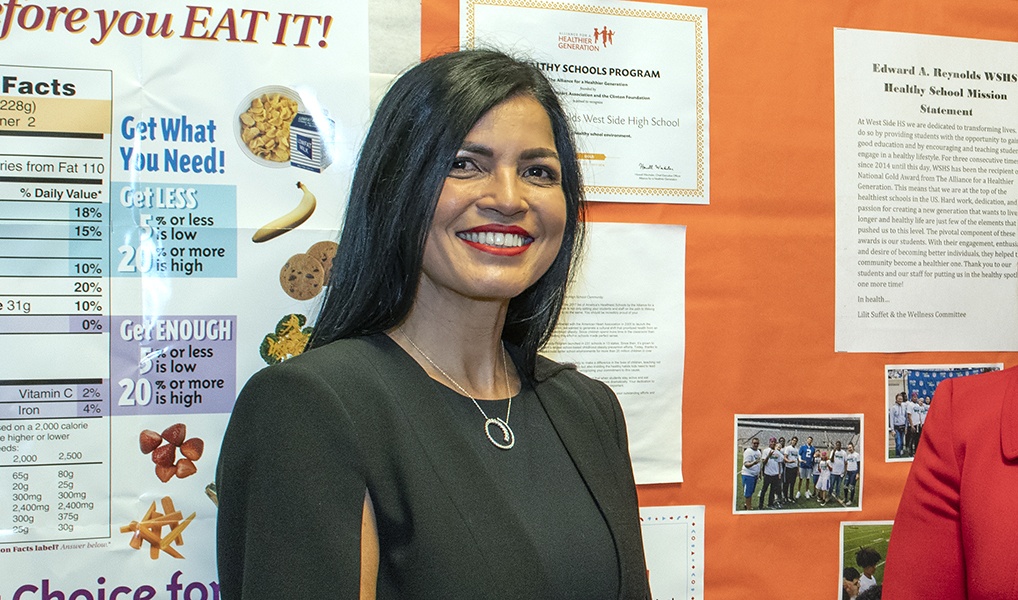 Indra Echeverri, a physical education and health teacher, is helping students at Edward A. Reynolds West Side High School develop lifelong healthy habits. Photo taken in 2019.
NEW YORK, NY — At Edward A. Reynolds West Side High School in Manhattan, Indra Echeverri is on a mission to help her students develop lifelong healthy habits. But first, she has to change their minds.
West Side High joined the Alliance for a Healthier Generation's Healthy Schools Program in 2011. Since then, it has been recognized six times by Healthier Generation as one of "America's Healthiest Schools," and in 2019 it was one of only eight schools nationwide to earn the National Healthy Schools Gold Award, Healthier Generation's highest distinction.
Echeverri, who teaches physical education and health and also serves as the school's wellness coordinator, says one of the biggest obstacles her students face on their road to a healthier lifestyle is their own misconceptions about exercise and healthy eating.
"The struggle is real when you're older and you haven't gotten into healthy habits," says Echeverri. "It's not an easy road for them. The concept of 'healthy' is so foreign. It's like, 'I can't do that. It's impossible.'"
Students take health into their own hands.
Many of the student at West Side High begin the wellness program presenting with conditions including obesity, heart disease, and diabetes. Under Echeverri's guidance and through the programs that have been implemented under the school's partnership with Healthier Generation — including an on-site health clinic; a smoothie room, where students use fruits and vegetables to create healthful, tasty treats; and a spin studio, where teachers offer free spin classes for students and staff before school — the students at West Side High are learning how to take their physical well-being into their own hands.
Last year, President Bill Clinton met with students and staff at Edward A. Reynolds West Side High School in Manhattan to learn how wellness is integrated into everyday life at one of America's Healthiest Schools. Photos taken in 2019.
In terms of eating, Echeverri says her students' opinion of "healthy" foods mirrors that of typical teenagers — it's a firm thumbs down. At least initially.
"It's not knowing what healthy foods look like, thinking that all healthy foods are expensive, and truly believing that healthy foods just don't taste good at all," she says. "There's a big misconception about the fact that if the food is healthy, it does not taste good."
Enter the smoothie room and science-based cooking lessons on the benefits of nutritious ingredients, like quinoa. Echeverri recalls one student who started the trimester having recently been diagnosed with high cholesterol. Through the class, she began substituting a fruit and vegetable smoothie for her daily breakfast of a sandwich she would regularly pick up from a bodega on the way to school. As healthy choices like these became habitual, she went on to lose 27 pounds and brought her cholesterol into a normal range.
Exercise is another matter. Many of the students at West Side High don't have safe access to parks, gyms, or other facilities where they can work out independently, and gym classes at their previous schools tended to be physical in name only.
"They don't think that they are able to do it because they have never worked out in their lives," Echeverri says. "They have no sense of what their bodies can do."
By the end of the trimester, students discover that exercise is not only doable but can actually be fun. Echeverri says it's not uncommon to see her students insisting on doing one more lap or set of reps rather than her having to push them.
ICYMI: West Side High School—one of America's #HealthiestSchools—had some special visitors yesterday! @KathyHigginsHG and @BillClinton met with students and staff to learn how health and wellness are integrated into every aspect of the school day. #HealthyFuture pic.twitter.com/B8LGZeMvqg

— Healthier Generation (@HealthierGen) December 11, 2019
Partnering to build a sustainable wellness program.
Echeverri credits West Side High's partnership with Healthier Generation for helping to make the wellness program sustainable and consistently effective — and for empowering students to use their new knowledge to benefit other people in their families and communities.
"Our partnership with Healthier Generation has helped us at every single level," Echeverri says. "Had it not been for them, our program… wouldn't be as strong as it is now. I think every school should have it."
In recent years, Healthier Generation has adopted a broader approach to children's health that focuses on meeting their physical, social, and emotional needs. The "Whole Child Model" is based on the theory that the aforementioned areas are all interconnected and equally important when considering a person's overall health — and according to Echeverri, maintaining children's physical health provides a crucial foundation for their mental and emotional well-being.
Echeverri and her colleagues at West Side High have noticed that emphasizing the importance of students' physical well-being seems to set them up for success in other areas.
"If you really think about what wellness is… it is such a wide spectrum," Echeverri says. "And you don't have to accomplish everything at once, but… when you accomplish one, it makes it so much easier to work on another."
"Once these kids are eating healthier and working out more, their production at school and their grades go up," she adds. "Ever since we started implementing all these wellness programs… our graduation rates have gone up a lot."
But that's not the only change, and neither is the occasional physical transformation her students undergo from the start of the trimester to the end.
"For the last few years, I have noticed a little bit of a shift," Echeverri says. "Now it is cool to be healthy."
Stay Updated On Our Work
Email