LeMoyne Jones, 93 years old and still giving back
Little Rock, Arkansas — It's Friday at the Clinton Presidential Center, and 93-year-old LeMoyne Jones – World War II veteran, businessman, educator, father, grandfather, great-grandfather, and founding Clinton Center volunteer – is at his usual post.
This June will mark 15 years that LeMoyne has been a signature, welcoming face of the Center. On Tuesdays and Fridays, he greets the thousands of visitors who come to tour our permanent and temporary exhibits, participate in our unique educational and cultural programming, dine and shop at 42 bar and table and the Clinton Museum store, and learn more about President Clinton's remarkable life of public service.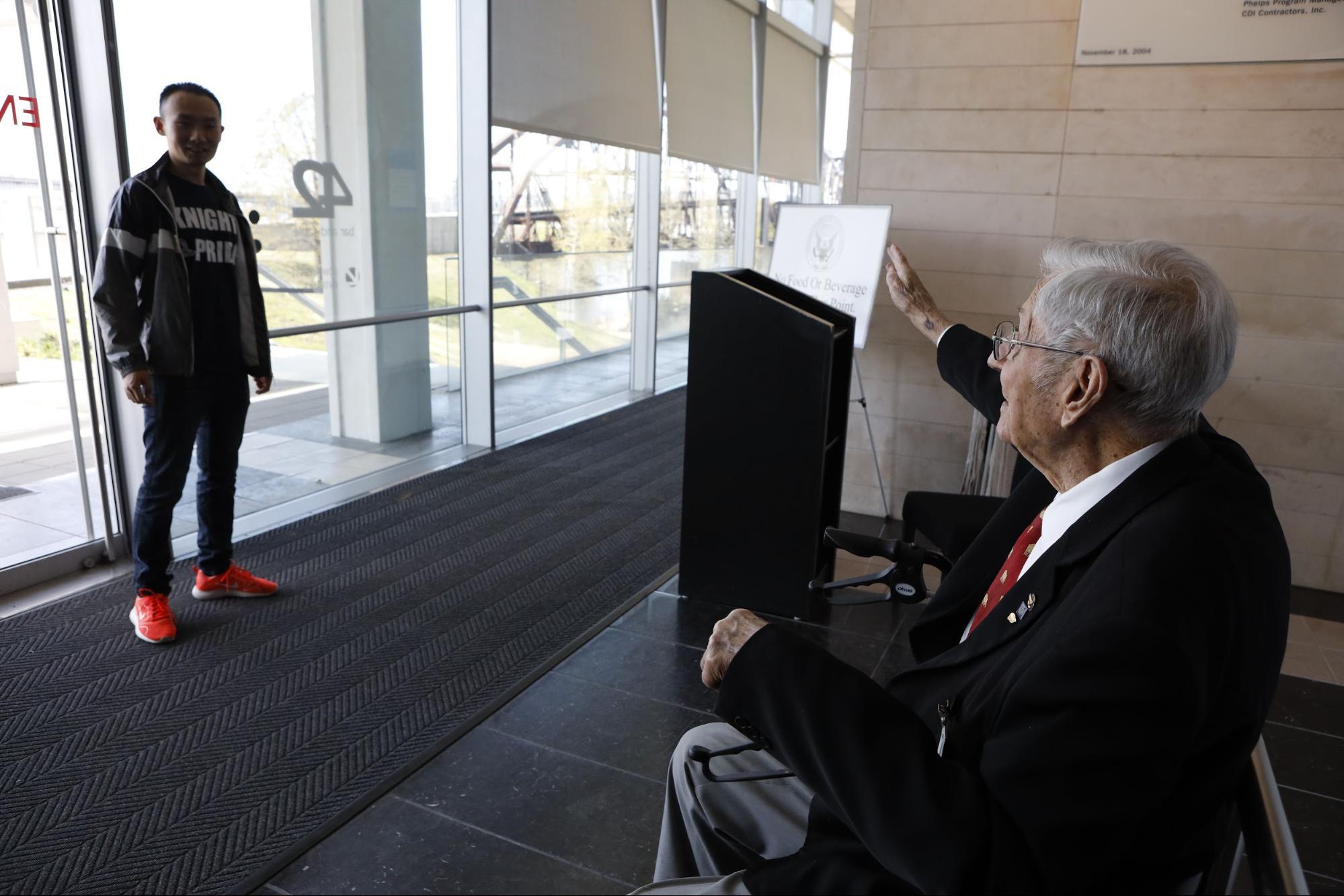 LeMoyne is from my hometown of Russellville and has a formidable record of service himself. He's among the greatest generation, coming of age in the wake of the Great Depression. His father was a teacher and later worked for the National Youth Association, one of the New Deal programs.
As World War II broke out, LeMoyne – eager to join the fight – lied about his age to enlist in the Navy. He was on a gunnery ship along the coast of Normandy on D-Day.
Following the war, LeMoyne put the engineering skills he learned in the Navy to work. He opened a few small businesses through the years before settling into life as an educator at the University of Arkansas at Morrilton in his retirement.
So, in June 2004, as the Clinton Presidential Center completed construction on the former site of abandoned warehouses and railroad tracks by the Arkansas River, he was among the first to sign up as a founding volunteer. And, since the grand opening later that year, he's seen downtown Little Rock transform with an influx of businesses, nonprofits, music, restaurants, and the arts.

"Through the years, LeMoyne has volunteered more than 6,000 hours, or nearly 250 days of his life."Stephanie Streett
Through the years, LeMoyne has volunteered more than 6,000 hours, or nearly 250 days of his life. In 2008, he was honored with the prestigious Volunteer of the Year award for his dedication and commitment to the Clinton Center. Today, LeMoyne gets to spend some time with one of the people he admires most – President Bill Clinton.  
From seeing his father teach in his youth to giving back to young people in his retirement, LeMoyne's lifelong passion for education is what first interested him in his then-governor, Bill Clinton. They met more than 40 years ago at a local teacher's convention, something he recalls during their meeting.
"You were our best governor in terms of education – a commitment I have continued to admire through your presidency and today through the work of the Foundation," said LeMoyne.
Over the last year, LeMoyne has greeted special visitors who came to participate in the Clinton Center's programs – including Clinton administration alumni such as Barb Kinney, Minyon Moore, Maria Echaveste, Terry Edmonds, Ben Johnson, Bob Nash, Janice Kearney, and Jennifer Palmieri; holocaust survivors Ben Stern and Dr. Irene Butter; and even President George W. Bush during the graduation of the Presidential Leadership Scholars.
He also was a friendly face greeting visitors for three temporary exhibits: "Louder Than Words – Rock, Power and Politics"; "The Great Expedition: Exploring the Louisiana Purchase"; and "The White House Collection of American Crafts: 25th Anniversary Exhibit," which included a special appearance by Secretary Hillary Clinton. In the last year alone, more than 36,000 students and educators visited the Clinton Center.
LeMoyne has become a vital part of the Clinton Center family. After recently suffering a serious injury that took him away from his post for more than three months, he was eager to get back and we were thrilled to see him. From the visitors he greets to the staff and volunteers he works with, the Clinton Center provides LeMoyne the opportunity to learn something new each and every day.
And when asked if he has a favorite location in the Clinton Center, LeMoyne has a clear preference. "The Oval Office. I was able to tour the actual Oval Office in the White House, so seeing it here seemed real and I felt that I could better understand the history of the White House, the Oval Office, and how President Clinton's incredible lifetime of public service continues through the Clinton Center and the Clinton Foundation."